THE INDEPENDENT | Experience Hong Kong's urban arts scene, curated by these contemporary arts champions
Muse over some murals by Szabotage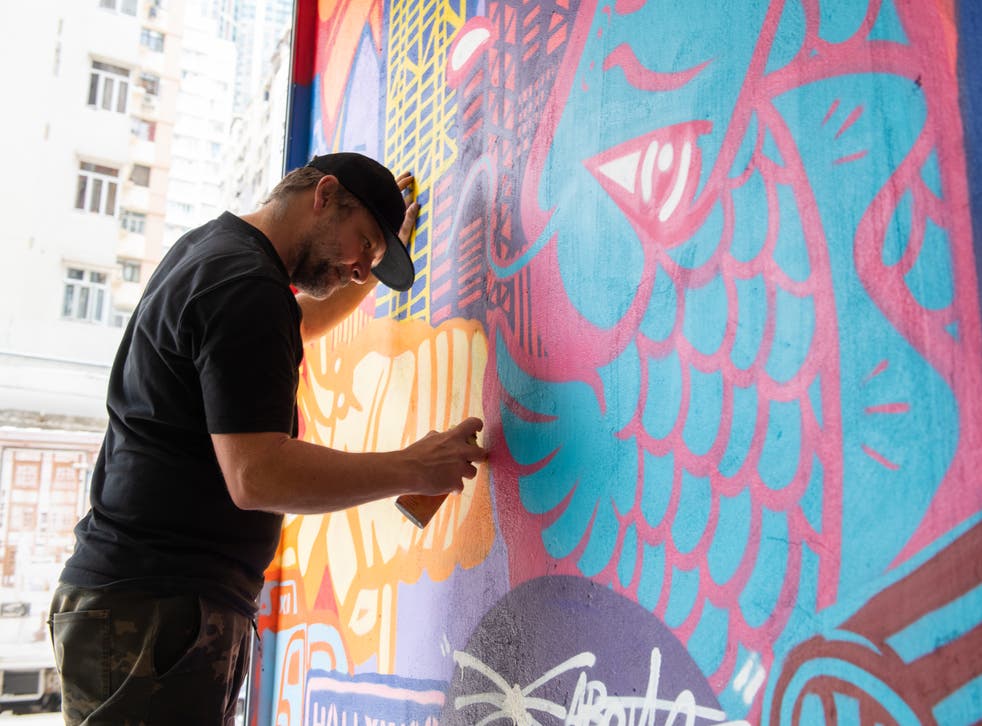 Szabotage is another artist who has been making waves in the street art scene in Hong Kong. The former architect and designer was originally from Shoreditch in London but found the graffiti scene there too saturated and competitive. "What draws me to paint Hong Kong architecture and streetscapes, in particular, is the juxtaposition of dilapidated buildings and brand new skyscrapers, the old and new, and how condensed the city is. I want to capture the vibe, the buzz, and the chaos and vibrancy of life on the streets of Hong Kong."
Inspired by the endless blank walls in the city, Szabotage decided to make the move and has been pasting his art all over, ever since. He's always been inspired by the culture, streetscapes and urban architecture of Hong Kong, which is reflected in many of his murals. In terms of his favourite pieces, he says, "One mural that I like is one I've done recently in Tsim Sha Tsui. It shows my signature stencil language, a visual language that I've been developing and perfecting. Although I call them stencils, each icon in the mural is actually hand-painted."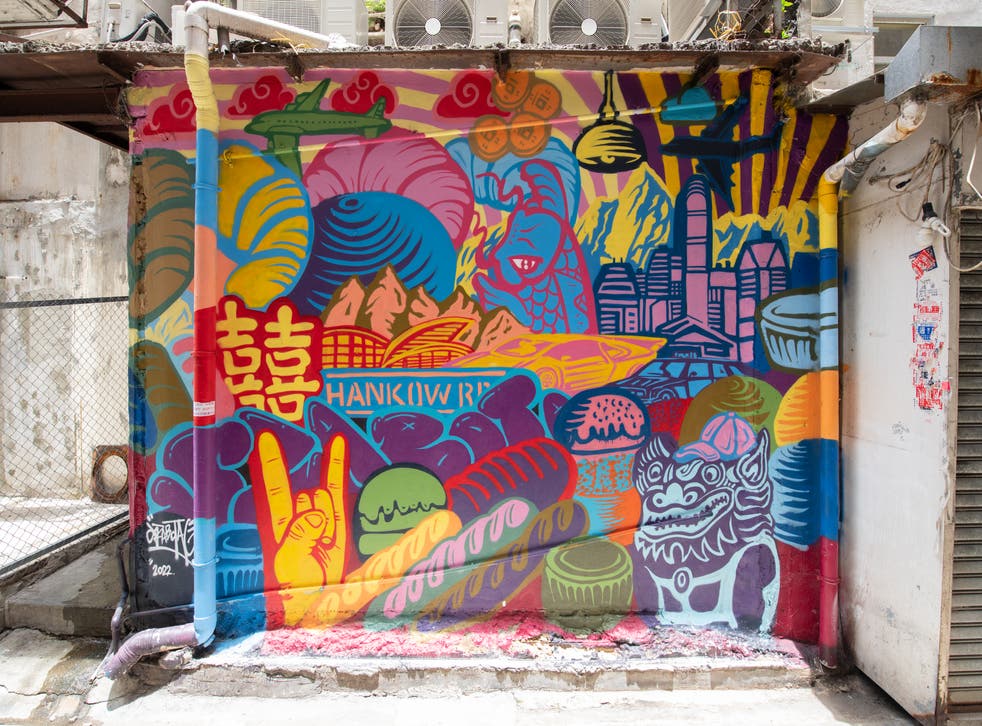 "There's also my Jaguar mural in Tai Hang Hau, Clear Water Bay. This mural is close to home and I created it to connect with my community." You can see some of his work pasted on walls around Yuen Long, Big Wave Bay and San Wing Pun. However, he is most known for his signature Koi Carp graffiti, which can be found on walls all over the city in places like Hong Kong Island and Kowloon.
Of this recurring motif, he says, "When I started doing street art in Hong Kong, I found the perfect wall in Sai Ying Pun to paint. The owner of the wall requested that I paint a Koi but we couldn't agree on a design, saying that I 'couldn't paint fish'. I took his feedback and invested the time to perfect the Koi, painting them across Hong Kong, and used this experience as fuel to pursue my artistry."
"Characteristics associated with the Koi, such as courage and perseverance are reflected in my art, with its boldness, strong symbolism and powerful colour palette. The Koi jumping out of water is jumping out of its comfort zone, from water to air. There's a sense of joy and rebellion demonstrated by its ability to swim against currents and even travel upstream, strong connotations that I can relate to."
Read the full article here.
https://www.independent.co.uk/travel/hong-kong-travel-art-artists-museums-curators-b2094827.html
---